PDF of An Chéad Dáil Éireann Commemorative Pack
Download a PDF of An Chéad Dáil Éireann Commemorative Pack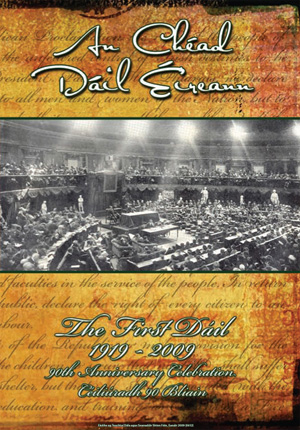 Sinn Fein Dáil Leader Caoimhghín Ó Caolain TD and national Chairperson Mary Lou McDonald will this afternoon launch the party's An Chéad Dáil Éireann Commemorative Pack which is being sent to primary schools throughout the country. The pack includes a commemorative 20 page illustrated brochure which details the historic events leading up to the first Dáil and will also contain reproductions of the documents adopted by TDs on January 21st 1919.
Speaking ahead of today's event's Deputy Ó Caoláin quoted the words of a young republican woman, Máire Comerford, who was present at the Mansion House on Jnauary 21st 1919, "'Never was the past so near, or the present so brave, or the future so full of hope.'
"Modern Ireland faces many challenges. Working families face heavy financial burdens, the vulnerable remain insufficiently protected, the economy is under developed and border counties continue to carry the economic and social burden of partition.
"Equality was the basis of the Democratic Programme adopted by the first Dáil. The Programme set out progressive social and economic goals based on the principles of the 1916 Proclamation and articulated by Pádraig Mac Piarais and James Connolly.
"Today we must continue to fight for these goals. The prospect of achieving Equality of Opportunity can inspire. It can bring people together. It gives us a common cause. Today's An Chéad Dáil events are not only a commemoration of the brave men and women of 1919, they are also a celebration of what Irish people achieved 90 years ago and their project modern Ireland has yet to complete."